Applications were previously installed in the BCIT academic labs and accessible only from on-campus at BCIT. The quick transition to online delivery requires students to work off-campus and will require access to resources from off-campus. This requires a VPN.
VPN is an acronym for 'Virtual Private Network'. A VPN is a means of extending a private network (BCIT) across a public network (the internet, using various internet service providers). Using a VPN allows for authentication and better security of computers accessing resources on the private network.
Workspace
When you are using Workspace, you are already connected inside the BCIT network. No VPN is required to use Workspace assets. You can run the VPN and still use Workspace assets without any problems, but VPN is not required.
AppsAnywhere
Many of the applications AppsAnywhere do not require anything to run other than an internet connection.  
However, some applications require licensing from BCIT to run. These applications will need to connect to the license infrastructure on BCIT's private network to check out a license and so you will need to connect to BCIT's VPN before launching them.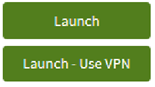 Applications that require VPN will say so in the launch button of the application tile as a reminder.


Lack of VPN connection where licensing is required will cause application launches to fail – usually with a license server message. The application is running, but it cannot connect to the required license infrastructure. These license server messages will look different depending on the application but all should have a similar message of 'No license server', 'No licenses available', or 'Cannot connect to license server'.

If you encounter a problem like this, make sure your VPN is installed and connected and retry your application. Give your computer at least 30 seconds before retrying for the VPN to establish connection.
If you are connected to VPN and continue to have license server problems, it is possible that license server is not functioning correctly. If that happens, we'd like to know! Please report the issue to the IT Services Service Desk using one of the methods below: