For offsite work, BCIT is providing access to a virtual desktop. This is a Windows 10 desktop that runs in our data center and will allow you to access your files and other secure resources.
Configuring your computer for Workspace
To login, go to workspace.bcit.ca in a web browser. Chrome and Firefox work best.
Login using your BCIT credentials
You will be asked if you would like to Detect Receiver or use light version.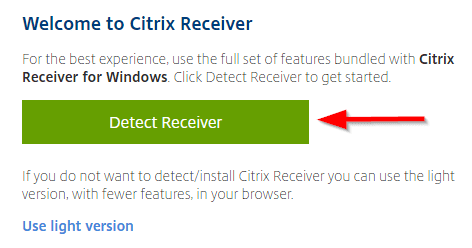 Performance will be better if you choose Detect Receiver. If you are using a BCIT-issued computer, it will detect the Citrix Workspace App on your computer and prompt you to detect/install Citrix Receiver.
If you don't already have the Workspace App installed:
Click on Detect Receiver.
Click on I accept the license agreement.
Click Continue
Click on Open Citrix Receiver Launcher to access the Workspace page
Launching the BCIT staff virtual desktop
The first time you login, click on the Desktops icon at the top of the page first.

From the Desktops screen:
Click on the blue icon  for BCIT Staff Virtual Desktop. You should see a window like the one below appear as you connect.
(Recommended) To make it easier to find in the future, click the star next to the icon to make it appear on the home page the next time you login.
Initial configuration
The first time you login you will need to configure Outlook and Jabber.
Configuring Outlook
Launch Outlook from the Start Menu.
Click Next on the Welcome screen.
Leave the Yes radio button selected and click Next on the Add an Email Account screen.
Click Next on the Auto Account Setup screen (relevant information will be completed automatically).
Click Finish on the Add Account screen. Outlook will then launch.
Configuring Jabber
Launch Cisco Jabber from the Start Menu.
Type your username in the following format:
A0#######@voip.bcit.ca
Click Continue.
Enter your password and click OK.
Once logged in, there will be prompts for further customization but this is not required.
Other software
You cannot install software on this virtual desktop, but you may have access to other software through Workspace. Those other applications will be visible by clicking on the Apps button at the top of the Workspace page (found within a browser tab). Any applications listed here can be launched directly from your own computer or from within the BCIT Staff Virtual Desktop.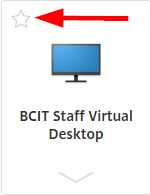 If there is additional software you need please make a virtual desktop request through the IT Service Catalogue.
Known issues
Notifications appear referencing Microsoft Edge file associations. These notifications can safely be ignored.