Sections in this article
The Room Booking system is designed to allow workgroups to schedule and reserve physical resources such as Institutional or Departmental meeting rooms at BCIT as well as equipment. It fully integrates with Outlook and allows you to request resources as you book your meetings. Meeting rooms and equipment can then be rescheduled or cancelled as easily as your meetings.
Rooms are grouped by site. We have organized rooms in geographical groups based on the campus map. This will facilitate searching the area near you when trying to locate a free meeting space. The available sites are:
Conference Rooms (Town Square, Great Hall, and so on)
BMC Rooms
CARI Rooms
NE Burnaby
NW Burnaby
SE Burnaby
SW Burnaby
Mathissi Place
ATC Rooms
AIC Rooms
Open rooms
Often your Departmental meeting rooms will be directly bookable by yourself and some rooms around BCIT are open to everyone for booking. Either way, the reservation process remains the same.
Booking an open room
Start a New Meeting by going to New > Meeting and pick the desired date/time.
Add meeting members (optional, this can be done later).
On the right-hand side, expand Show a Room List and select the desired area of campus.
Now scroll down the "Suggested Times" list to find a time when the room you want is available and select it. Notice how it reports both the available room(s) and whose schedule is in conflict.
Alternatively, you can invite rooms to your meeting in the Scheduling Assistant:

5. Select Scheduling Assistant

6. Click Add Rooms

7. Select the desired room(s) and then click Rooms-> to add them to your invitation.
8. Click Ok to return to the invitation.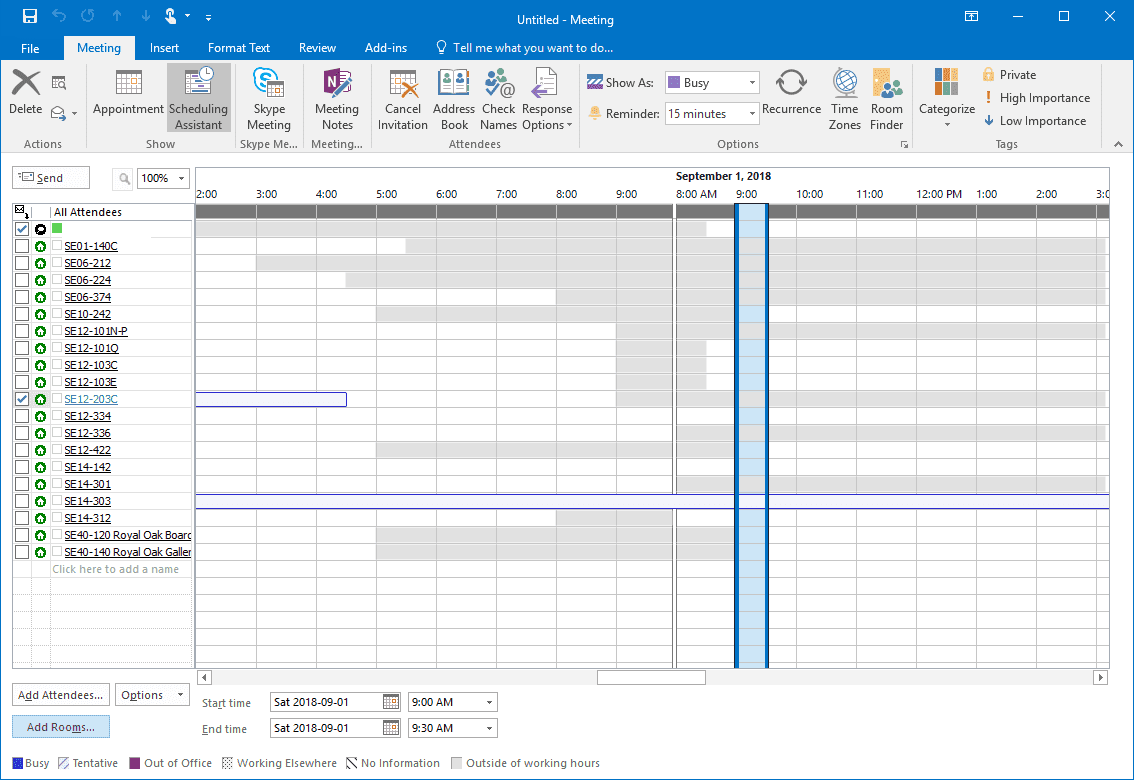 9. Click on Schedule Assistant to see availabilities.
Note: If you selected multiple rooms, make sure to de-select the one(s) you do not wish to reserve to avoid over-booking.
Once you send the invitation, if the time is available, you will receive an immediate acknowledgement.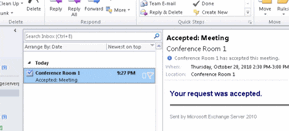 When the room isn't available, the request will be declined but it should indicate the reason for the rejection as shown below. In this case, the rejection indicates that the room was already booked for the requested time period. Make sure to check room availability before sending your requests.

Repeat meetings will declined if at least 40% of the dates or more than six instances conflict with existing meetings, otherwise all available dates will be booked and exceptions will be flagged in an email to you.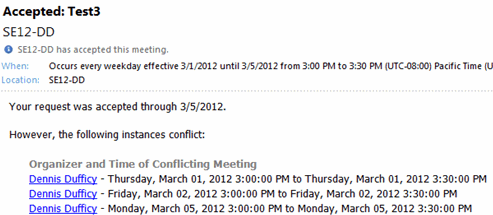 Bookable rooms
Some rooms at BCIT are available on request-basis only. The system doesn't differentiate these meeting rooms so you create a meeting invitation the same way as described above. The main difference is that you will not receive a response immediately. The room coordinator will have to receive and process your request first. Right after creating the reservation, you should receive a Tentative response indicating your request was sent for approval. Subsequently, you should receive the actual response to your request.

Privacy note
In case you are concerned with confidentiality issues when requesting a room booking, the Coordinator can only see the Chairperson's name, the subject and dates requested. Any content included in the body of the meeting invitation is stripped before sending the booking request. The implication is that you cannot communicate questions or comments to the room coordinator as you request the resource. This would have to be done separately.
Restricted rooms

Some meeting room space at BCIT has restricted access, meaning they are only available to a select number of staff. These rooms will display on the list when you click but will be labelled "Restricted". Sending a meeting request to such a room will result in an automatic decline. You will need to contact the room coordinator to gain access to the room.

Equipment bookings
Some departments own equipment that need scheduling capabilities to manage the use of that equipment. These resources can vary from digital gear, to computers and even vehicles. These resources are usually owned, managed and restricted to the department staff. To request the equipment, you will need to know the name of the resource.
Start by creating a meeting request as you normally would.
Click on the To field to bring up the Address list and change the Address Book to Resources.
Select the resource required and then click on the Resources button as shown below to add it to the list.
Click Ok.
Send the invitation. If approval is required, the process is identical to requesting a bookable room as described above.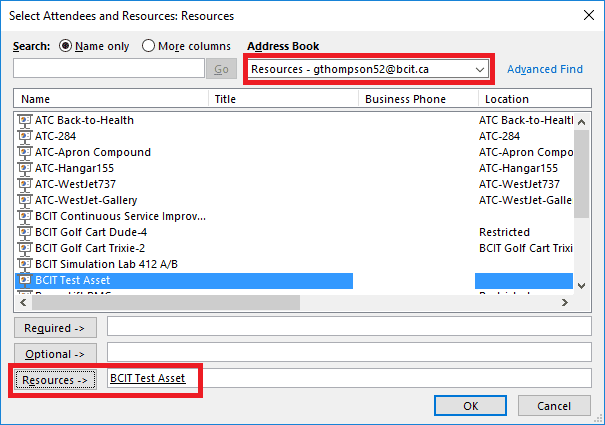 Chairperson responsibilities for meetings outside your area
The following guidelines will ensure that meeting rooms remain open and available for wide-spread use, that your meetings are held in optimal settings, and that the Institute optimizes the use of existing space in times of need. As the Chair and/or attendee of meetings outside your department it is highly recommended that you observe the following policies:
Room requestors are expected to be familiar with specific departmental requirements for using the facilities. When unsure, please contact the appropriate coordinator.
No double-bookings allowed by requestors, violations can be reported to Campus Planning.
No Place holding allowed by requestors, violations can be reported to Campus Planning.
Requestors are required to cancel meeting room reservations when no longer required, even up to the last minute. Requestors are responsible to alert all meeting attendees of any cancellations and should post notifications on the meeting room door for last minute changes.
Repeat meetings should not span more than four months (one term).
Meetings should be scheduled in Open Access rooms only. The system provides a 'Restricted' category of rooms which should be requested only in dire emergencies.
Coordinators will not handle setup requests such as seating arrangements, Catering Requests, or AV Requests. These additional meeting requirements need to be coordinated by the Requestors themselves. Requestors may need to show up early to help setup and stay longer for cleanup.
Requestors have an obligation to respect room capacities. Last minute "cramming" of people and chairs is very disruptive for both the meeting and the department's staff.
Meeting Chair Persons are responsible to make sure all participants know the location of the meeting and how to access the room. The Department's reception will NOT be able to direct traffic or answer questions about these meetings, nor should they have to. 10.The meeting Chair is also responsible for showing up on time and adjourning the meeting on time, meeting extensions will not be allowed.
Meeting attendees should not "clog" hallways waiting for meetings room to clear. This can be very disruptive to staff working in the area.
Requestors should always keep in mind their status of 'guests' in other departments. As such, they are responsible for returning the meeting room in the same state they have entered in and make all efforts to maintain a state of cleanliness, and propriety.
Issues with a specific room booking should be reported to the Room Coordinator.
Violation of any policies may be reviewed by Campus Planning and result in booking restrictions in the future.