BCIT has installed multiple Cisco Telepresence devices located in the Burnaby and Downtown campuses. These devices utilize video and audio conferencing, desktop and file sharing using Cisco WebEx, or point to point connection with other Telepresence devices (Zoom, GotoMeeting, etc).
How to use the video conferencing units
Before the meeting starts
Send the following meeting details to all participants with instructions NOT to log in until the designated time.
How to join the meeting
Enter the meeting room number or Access Code for the meeting you wish to join
Connect to Audio: (There are three options)

Preferred Method: Use my Computer (uses computer microphone and speaker).
Call Me (system will call a provided telephone number)
I Will Call In (participants will call in to a portal)
How to join the meeting: audio only
Join by phone:
For moderators – starting the meeting
1. In the meeting room, log in to the conference system with the Touchpad.
The Host PIN is 7412

Important: Never forward this pin to participants!
Note: PINs will change every few months.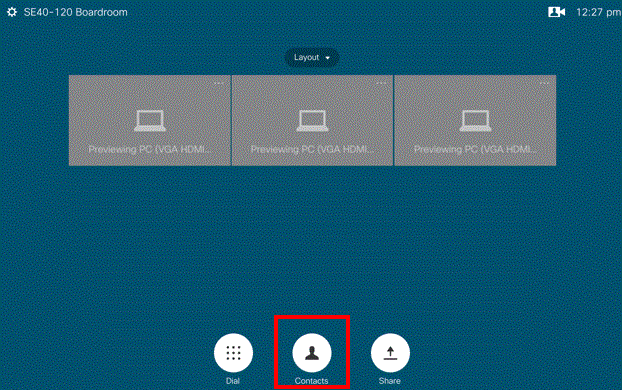 2. From the touch pad, Press Contacts, then Favorites.
3. Select your room from the list (eg SE01-123 Webex Room).
4. Press Call to dial into the meeting.
The system will automatically connect the moderator to the portal
The system will prompt the moderator for the PIN number: – 7412# .
5. On your computer, Launch the Webex portal
6. Enter the meeting room number or Access Code for the meeting you wish to join
Important: The moderator or other participants in the room should not connect to audio on their computer. The audio is already connected to the Telepresence system and additional systems will cause an audio feedback problem.
Conference room information
* – indicates that use of the room requires departmental approval
Burnaby
| Room | Access Code | Local | Phone Number | SIP | Model | Capacity |
| --- | --- | --- | --- | --- | --- | --- |
| SE02-213 (Townsquare C) | 801 702 284 | 7896 | 604-622-7896 | SE02-213@bcit.ca | SX80 | 55 |
| SE02-214 (Townsquare D) | 801 439 725 | 7897 | 604-622-7897 | SE02-214@bcit.ca | SX80 | 140 |
| SE06-224 | 801 474 014 | 8132 | 604-456-8132 | SE06-224@bcit.ca | Cisco Board 85 | 8 |
| SE12-334 * | 807 154 681 | 4088 | 604-453-4088 | SE12-334@bcit.ca | Cisco MX800 | 16 |
| SE12-336 * | 807 187 790 | 4989 | 604-431-4989 | SE12-336@bcit.ca | Cisco MX700 | 7 |
| SE14-142 | 807 414 714 | 7898 | 604-622-7898 | SE14-142@bcit.ca | Cisco MX700 | 12 |
| SE40-120 (Royal Oak Boardroom) | 802 842 673 | 7899 | 604-622-7899 | SE40-120@bcit.ca | SX80 | 25 |
| SW02-108 * | 805 394 953 | 8365 | 604-432-8365 | SW02-108@bcit.ca | SX20 | 12 |
| SW02-158 * | 802 722 358 | 8553 | 604-432-8553 | SW02-158@bcit.ca | Cisco Room Kit | 10 |
| NE09-213 * | 177 377 2720 | 7892 | 604-622-7892 | NE09-213@bcit.ca | Cisco Board 70 | 2 |
| NE25-102C * | 177 132 0197 | 7891 | 604-622-7891 | NE25-102C@bcit.ca | Cisco Board 85 | 4 |
| NW01-100B * | 801 140 477 | 7895 | 604-622-7895 | NW01-100B@bcit.ca | Cisco Board 55 | 6 |
| NW04-2091 | 2451 971 5612 | 1710 | 604-331-1710 | NW04-2091@bcit.ca | Cisco Room Kit Plus | 2 |
| NW04-2100 | 2468 736 6947 | 1711 | 604-331-1711 | NW04-2100@bcit.ca | Cisco Room Kit Plus | 8 |
| NW04-4113 | 2468 064 0512 | 1712 | 604-331-1712 | NW04-4113@bcit.ca | Cisco Room Kit Plus | 10 |
Downtown
| Room | Access Code | Local | Phone Number | SIP | Model | Capacity |
| --- | --- | --- | --- | --- | --- | --- |
| DTC-230 | 2464 137 7765 | N/A | N/A | N/A | Webex Room Phone | 20 |
| DTC-240 | 2458 625 5966 | 1717 | 778-331-1717 | DTC-240@bcit.ca | Cisco Room Kit Plus | 10 |
| DTC-272 * | 803 962 465 | 7765 | 604-412-7765 | DTC-272@bcit.ca | Cisco MX800 | 20 |
| DTC-277 * | 2469 315 8423 | 1713 | 778-331-1713 | DTC-277@bcit.ca | Cisco Room Kit Plus | 20 |
| DTC-281 | 2460 375 5856 | N/A | N/A | N/A | Cisco Board Pro | 6 |
| DTC-284 | 2459 808 2935 | N/A | N/A | N/A | Cisco Board Pro | 6 |
| DTC-619 | 808 689 641 | 7766 | 604-412-7766 | DTC-619@bcit.ca | Cisco MX700 | 9 |