This article provides step-by-step instructions on how to import the BCIT statutory holidays into your Outlook calendar.
Importing holidays
Ensure Outlook is open.
Save the BCIT Outlook Holidays 2019 – 2024 file to your computer, in a folder of your choice.
Right-click the link above and select Save Link As ….
Select a download folder and click Save.
3. Double-click the .HOL file downloaded above to open the Add Holidays to Calendar dialog box.
4. Check the boes next to each year of BCIT holidays you would like to add to your calendar and click OK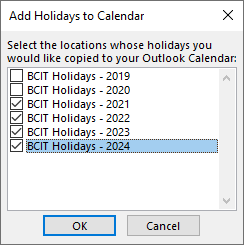 5. You should see a dialog box that the holidays were added to your Calendar.6. Click the OK button to close the box.
More resources about using the Outlook calendar