How to modify groups using Outlook Web Access (OWA)
Login to mail.bcit.ca with your usual BCIT credentials.
Click on the gear icon in the top-right corner of the screen and select Options.
In the left-hand menu plane, click General then Distribution Groups.
A list of distribution groups you own will appear, double click on the group you wish to manage
To change the members of the group, select membership. To modify the owners of the group select ownership.
Use the + icon to add users from the address book.
Use the – icon to remove users from the group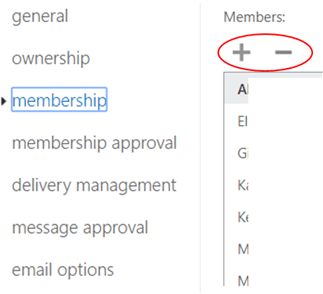 How to modify groups in the Outlook application
From the Outlook Home tab click on Address Book located in the Find grouping.
In the search box type the name of the group you wish to modify.
When the search function finds the group, right-click the group name and choose Properties.
First ensure that you are listed as an owner of the group. If you are not listed then you must contact the owner to have the group modified.
If you are an owner, click the Modify Members button.
Click the appropriate button to add or remove someone.
Please note: if you want to remove someone, select their name from the list and then click the Remove button. If you do not make a selection first then the Remove button will remove whomever is currently selected.
7. Once you have finished modifying the group click OK to save your changes.
8. Click OK again to close the group modification box.
More information about using Microsoft Outlook/Exchange