This guide contains simplified description of downloading and installing and configuring WinSCP. For detailed documentation please visit the WinSCP installation documentation.
Please note: In order to connect to Drives when off campus, you'll need to use myVPN.
How to download WinSCP
You can obtain WinSCP from https://winscp.net/eng/download.php. Select the green Download WinSCP button. Click the file after it downloads to begin the installation.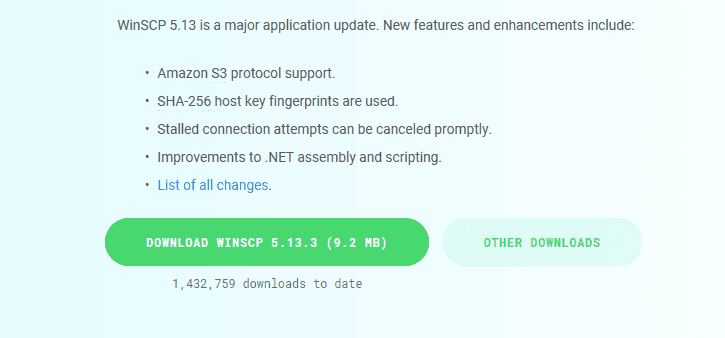 How to install WinSCP
1.  Open the installation program by double clicking on its icon.
2.  Click Accept in the License Agreement window.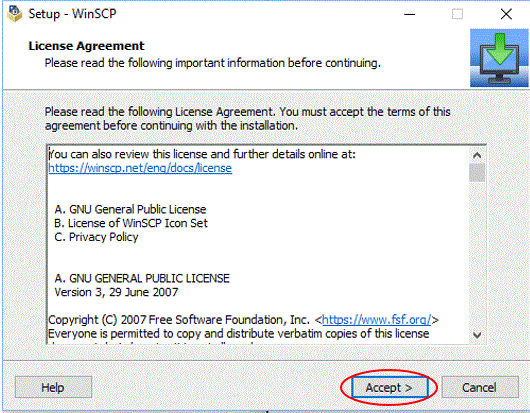 3.  Click Next for the Welcome Screen.
4.  Click Next for the License Agreement after reading it.
5.  You will be prompted to select a setup type.  For basic setup, choose Typical installation, and click Next.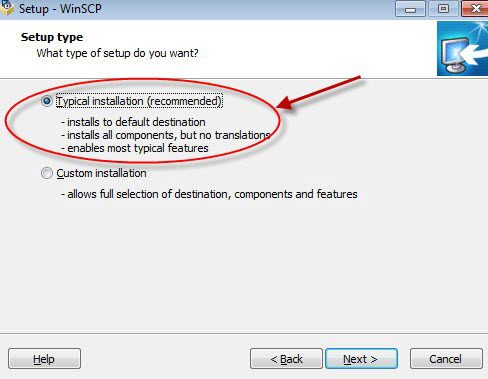 6.  Then you will be prompted for Initial User Settings.  We recommend that you select the Explorer interface and click Next.
7.  You may get a "WinSCP recommends" screen.  We recommend that you deselect options at the bottom and click Next.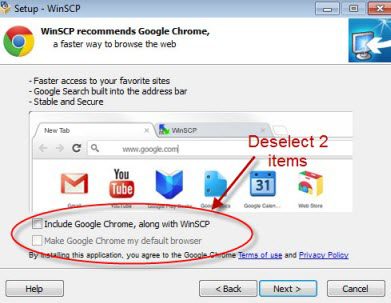 8.  On the Ready to Install screen, you can review the installation options you've selected.  Click Install to start the installation.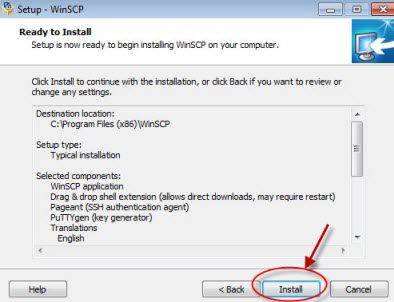 A brief installation process will take place.  You may have restart your computer.  If you choose not to restart, some WinSCP functions may not be available until you do so.
9.  You may get the following message about the PuTTY SSH client.  You can safely select Cancel.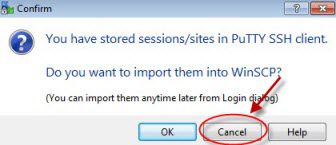 10.  Select Finish to complete the setup.
How to configure WinSCP for BCIT
1.  After clicking Finish, you will see the WinSCP Login screen.  Enter the following information:
File protocol: SFTP (Select using the dialog box down-arrow)
Host name: files.bcit.ca
Port number: 22
User name and Password: your usual BCIT credentials
2.  Click Advanced.
3.  Select the Directories link in the column on the left in the Advanced Site Settings window.  Uncheck Remember last used directory and confirm that the Remote Directory field is blank.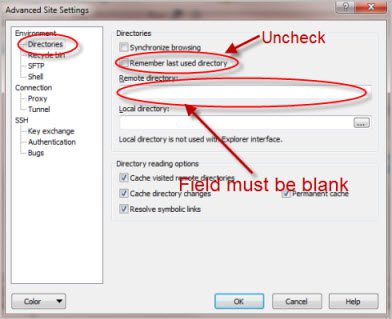 4.  Click OK.
5.  On the WinSCP Login page, click Save.
6.  On the Save session as Site, change the Site name to BCIT and confirm that the Folder field is blank.
Connect to your site
1. Select BCIT in your site list.
2.  Click Login.
3.  If you see the following warning, click Yes.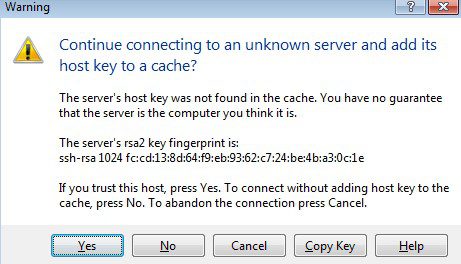 You can now navigate to your network directories using WinSCP.