Creation of an Adobe Federated ID is now required before you can use Adobe products at BCIT.
Steps to create an Adobe Federated ID at BCIT
To create an ID, complete the following steps:
1.  Click this link to go to the consent page.
2.  You will be prompted to authenticate. Use your BCIT ID and normal password.
3.  Adobe Creative Cloud section is at the top of the page content. Click on the Provide Consent button.
4.  Review the agreement to transmit personal data and provide consent. Adobe products will not be usable if consent is not provided.
5.  An account will be created for you after 30 minutes.
After completing these steps and waiting for 30 minutes, you can proceed to the next section.
You will only need to create an account once.
Adobe subscriptions and online access Sept 2020
Prior to online delivery in September 2020, creating a Federated ID was sufficient to enable access to the lab installations. Currently, online delivery now also requires a subscription assignment directly to students. These subscriptions are assigned by IT Services based on student information provided by instructors.
If students cannot access Adobe products 1 hour after creating a Federated ID, contact your instructor and mention that student information is required to provision student access. Reference the Adobe summer student licensing knowledge article.
How to sign in to Adobe applications using your ID
Perform the steps below to sign in to Adobe applications in the labs:
1.  Launch an application from the menu.
2.  You will be prompted to sign in.
3.  USERNAME = @bcit.ca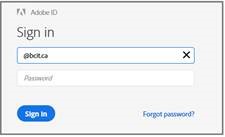 4.  PASSWORD = as soon as you tab or click on the password field, you will be redirected to BCIT to authenticate.
5.  Use your BCIT ID and normal password. The application will now launch.
Application login will need to be performed any time you launch an Adobe application.
More information on software licensing