Important note:
During scheduled maintenance events, the wired network connections in residences may be interrupted. Please check the ITS News Page to see upcoming maintenance periods.
Wired network connections in BCIT student residences are similar to standard Internet Service Provider (ISP) connections. They use a network protocol called Point-to-Point Protocol over Ethernet (PPPoE). Physically one must connect a Category 5 or 6 RJ45 terminated cable to the room's jack and the device you want to connect. This cable is just the standard cable that ships with many devices.
After plugging in your device, the Windows device's PPPoE client software needs to be configured. Sample configuration steps and screen captures are listed below for Windows 10 devices.
Configuring PPPoE on Windows 10
1.  Click the Start button and open Settings.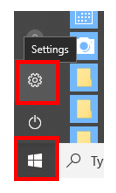 2.  Select Network and Internet.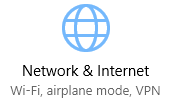 3.  Open the Network and Sharing Center.

4.  Click Set up a new connection or network.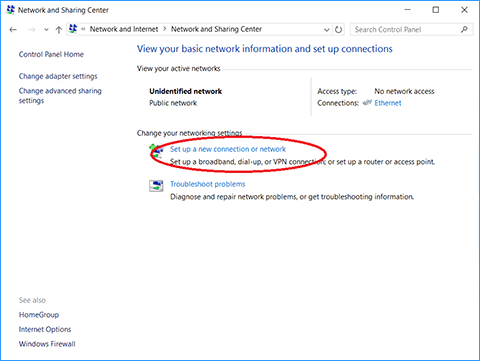 5.  Click Connect to the Internet.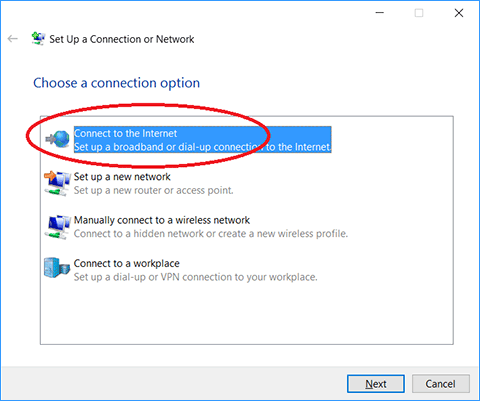 6.  When asked to pick the connection type, select Broadband (PPPoE).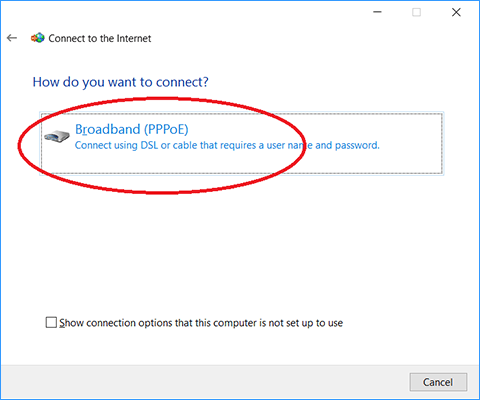 7.  When prompted, enter your usual BCIT credentials.
Note:  the Connection Name is for informational purposes only and is not critical for setting up the connection.
8.  Click the Connect button.
9.  After clicking the Connect button, the connection should be finalized and the following screen should appear.