Contractors and affiliates include:
Tradespeople hired by Facilities
Student Association Employees
Union Employees
Student Markers
Chartwells – Food Service Employees
Custodial Staff – Best Service Pros
Other Vendors
IT Services must ensure that guests to the campus are sponsored by regular staff members here at BCIT. To meet this objective the IT Services Security Team has created a Request Guest Wifi Access form which must be submitted at least five days prior to accounts being issued for persons who are not BCIT staff.
Note: If the contractor requires network access for one week or less and only needs WiFi access, you can create an account for them yourself.  To do this, please use the instructions found here: How to create a guest wireless network account.
Apply for network credentials.
To apply for network credentials for an external contractor or affiliate you must complete the online application form called Request Guest Wifi Access.
Go to techhelp.bcit.ca
Select Make a Request and login with your BCIT ID and password.
Select Networks and Connectivity -> Wireless (WiFi) Request -> Guest WiFi Access to access the application form.
Complete the online application. Please include the following guest details:
name
organization
phone number
email address
contractor ID
dates they require access
level of access required (wireless access only, lab computer access, or employee computer access).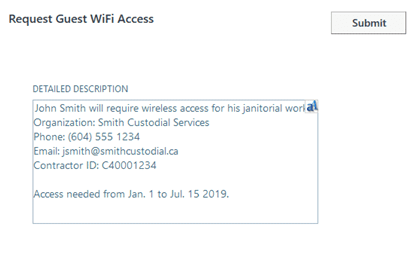 5. Click the Submit button to submit your Service Request