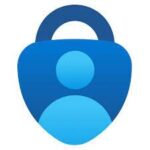 To enhance information security and mitigate potential privacy and security breaches, BCIT is introducing multi-factor authentication (MFA) for students on specific BCIT systems. This implementation will involve using Microsoft Authenticator, which will add an extra authentication step in certain circumstances when logging in.
General questions about MFA and Microsoft Authenticator
Multi-factor authentication (MFA) means using more than one "factor" to verify a user's identity at a login point. Previously, BCIT was using single-factor authentication – where that single factor was your usual BCIT password – to confirm that you are who you say you are when you try to login to a BCIT system or tool.
With the transition to MFA, the process will still begin with your usual BCIT login credentials (your myBCIT email address and password). However, we will now include an additional factor for verification. This will typically involve either accessing an enrolled mobile app on your smartphone to confirm your login attempt or using a device (SafeID token) that can provide a passcode. The additional authentication step is an added layer of security on top of your existing credentials. 
Login credentials are valuable and are increasingly easy to compromise. Over 90% of breaches today involve compromised usernames and passwords. A majority of cybersecurity incidents have come from compromised passwords, and MFA is designed to reduce this risk. By requiring two different channels of authentication, your login credentials are protected from remote attacks. MFA prevents anyone but you from accessing your account, even if they know your password. 
Starting in September 2023, MFA will be introduced as an optional opt-in service for students. Subsequently, starting January 15, 2024, MFA will become mandatory for all students.
Important: If you choose to set up MFA on your BCIT account prior to January 15, 2024, MFA will be mandatory for you from then on, even during the optional period.
To start with, there are five main systems that will be protected by MFA. They are:
Not ordinarily. In most cases you are able to check an option to remember any specific device for 90 days. As a result, most users can choose do only do MFA occasionally, depending on how they interact with BCIT systems. Users who utilize multiple devices or browsers, who frequently access a variety of applications, or who commonly use incognito/private browser windows, frequently restart, etc., may need to do MFA a little more often. As well, you will not generally be asked to do MFA if you are on campus and connected to BCIT wifi or wired networks.
The simplest option, and the one BCIT recommends, is to install the Microsoft Authenticator Mobile app on your personal iOS or Android phone or tablet. With this app, once you've gone through the initial setup process , you can quickly confirm that you are the person attempting to log into your account. You are likely already carrying your phone with you, so having it available whenever you need to access an affected BCIT system is likely to be the easiest method to use.
There are also other options that you could use instead of or in addition to the Microsoft Authenticator phone app, such as a SmartID hardware token (available at the BCIT bookstore), adding the Microsoft Authenticator app to a second device, using a YubiKey, or others. You can have multiple methods set up at the same time to increase the likelihood of having a method available when you need one (including when your phone battery is dead). You would need to carry at least one method with you whenever you anticipate needing to access an affected BCIT system.
In the event that you find yourself without an MFA method and require access to a protected BCIT system, the IT Service Desk can offer a bypass as a last resort. Please note: this is only available during listed service hours.
Currently, various authentication methods are employed for different user groups within BCIT. Faculty, staff, and contractors utilize multi-factor authentication via the Duo app or a hardware token (fob key), while BCIT students will engage in multi-factor authentication using the Microsoft Authenticator app or a SafeID token.
Let's consider two scenarios:
If your initial affiliation with BCIT was as an employee (faculty, staff, or contractor), you would have already integrated the Duo app  into your authentication process. Should you remain an active employee and subsequently transition to a student role, there is no requirement to install the Microsoft Authenticator app. Throughout your tenure, your primary authentication method will consistently be prompted through Duo.
Conversely, if you commenced your BCIT journey as a student, you would have set up the Microsoft Authenticator app for authentication. Should you later assume an active employee status, you will need to additionally install the Duo app. This Duo authentication becomes necessary for accessing specific employee software or programs. Regardless of the circumstances, Duo will invariably take precedence over the Microsoft Authenticator app during the authentication process.
First of all, if you're on campus and connected to BCIT networks or using a BCIT lab computer, you'll (almost) never be asked to MFA. And if you're using your own personal device and have asked MFA to remember that device anytime in the last 90 days, you shouldn't be asked to MFA again on that device (as long as you're using the same browser/aren't attempting to connect to something within a private browser window/etc.) until that 90 days is up. So, depending on your situation and decisions you made in the past, it's possible that you won't need your MFA device or token before you can get back to your phone/token.
In the event that you find yourself without an MFA method and require access to a protected BCIT system, the IT Service Desk can offer a bypass as a last resort. An analyst, once they've verified your identity, can provide you with a temporary MFA bypass. This is only available during listed service hours, so again, we strongly recommend setting up more than one MFA method and keeping at least one method with you whenever you may need to connect to an affected BCIT system.
If you no longer intend to use your SafeID token and wish to transfer it to another user, you must start by removing your SafeID token from your list of MFA methods. Afterwards, the new user can follow the necessary steps to set up their SafeID token.
In case you encounter any difficulties while trying to remove your SafeID token, please reach out to the IT Service Desk for assistance. They will require your information and permission to process the changes.
Note: If you do not remove the SafeID token from your list of MFA methods, the new user will be unable to utilize it.

If you receive an authentication request that you did not initiate, and especially if you receive more than one, it's best to report the suspicious activity.
Click on No, it's not me.

Click on Report.

Once you do this, your account will become locked and you will see an error if you attempt to login.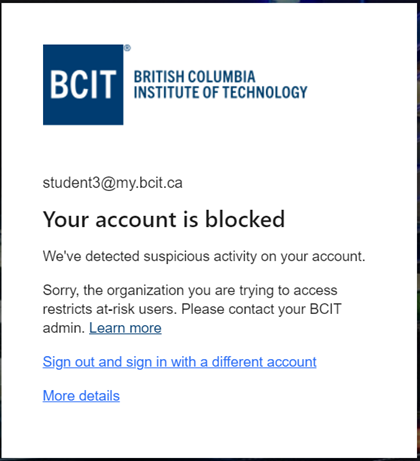 To unblock your account, change your password and the block will be removed automatically within 30 minutes. Alternatively, if you require access immediately, contact the Service Desk and explain the situation. They can verify that your account is blocked and expedite your return to access.
If you've already gone through the steps to add the App to your device and enroll it, there are several possible reasons why you may not receive notifications:
You haven't turned on notifications for the Microsoft Authenticator app on your phone.
Your phone has no connection to the internet (wifi, cellular, etc.).
Your phone is not connected to wifi and you haven't permitted the app to use your cellular data.
Your phone is in a state in which it cannot receive or notify you about the login attempt (powered off, airplane mode, "do not disturb" or similar status, etc.).
One possibility is that a Focus profile is preventing it. This is a feature introduced in recent versions of iOS.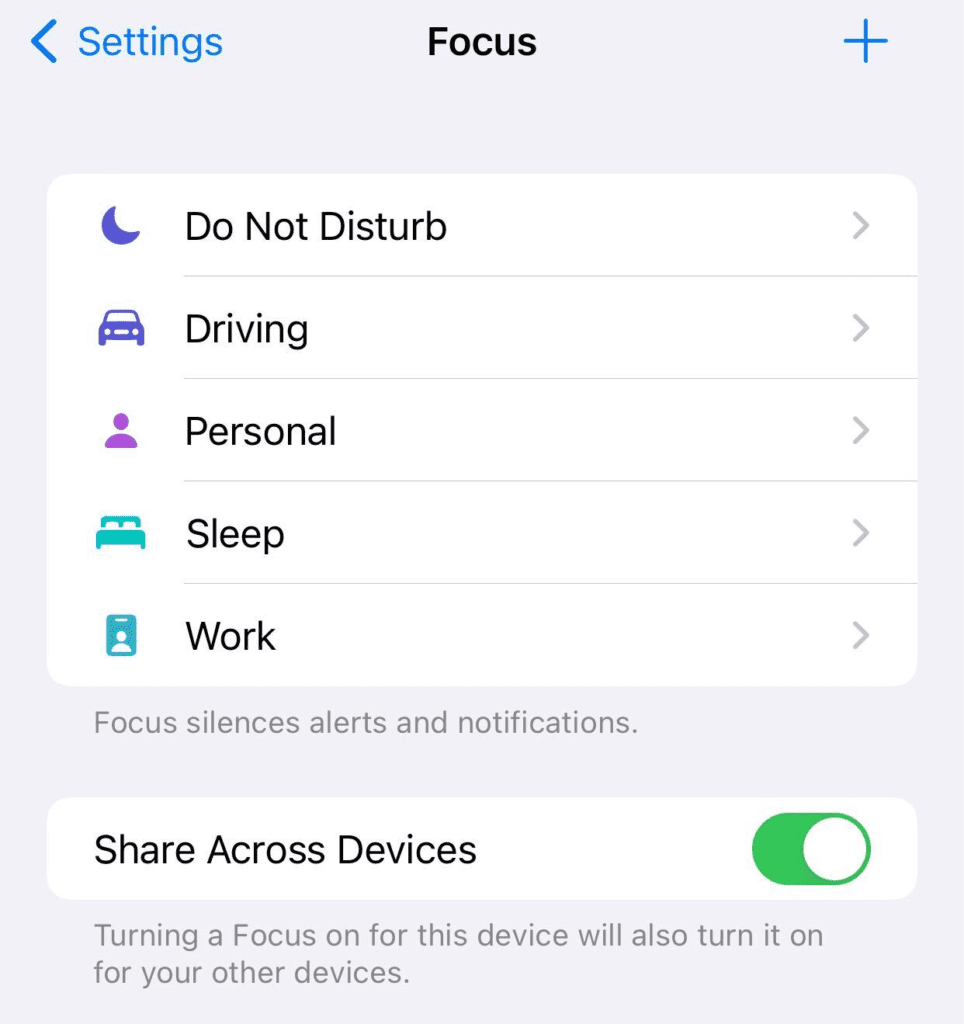 Depending on your settings, your active Focus profile can suppress Microsoft Authenticator app notifications and prevent you from seeing them. To prevent this, add Microsoft Authenticator to the "Allowed Notification Apps" in all relevant Focus profiles.
If the Microsoft Authenticator app is not whitelisted in this manner, you won't receive any Authenticator app notifications while using one of the Focus profiles. Consequently, this might lead to inadvertent lockouts due to multiple failed (timed out) MFA attempts.
More information about multi factor authentication at BCIT