Contents
What is the ShareFile plugin?

BCIT deployed ShareFile to store and share your personal files. As part of this deployment, IT Services has installed an Outlook plugin for ShareFile that allows you to easily share files with staff at BCIT and to external contacts. You can confirm the Plugin is installed by finding the ShareFile icon in the ribbon.
There are several benefits to using ShareFile instead of attaching files in Outlook messages.
Space: Using ShareFile, you attach links to your documents instead of copies of the files. This translates into a huge space savings and eliminates the need to cleanup your Outlook mailbox periodically.
Control: Using ShareFile Options, you control who can use the download links, when the links expire, and even can get notified when the link is used!
Expiration: You also have the choice of expiring links, even after you've sent them. Expired links will deny access to the specified file for anyone trying to use that link.
Single Copy: With ShareFile, a huge benefit is that the link always allows the recipient to download the latest version of the document. If you update your file, all recipients have immediate access to the most current version without needing you to resend it.
Setting up the ShareFile plugin

The first time you click on the ShareFile plugin icon in the ribbon, you may be asked to authenticate to the service. If so, make sure to use BCIT as the subdomain and enter your BCIT ID and password when prompted.
Attaching files from ShareFile

You can use the Plugin to insert file links in a New Message or a Reply to files that reside in your ShareFile folders. Note that that when replying, you will need click on Pop Out, to show the message ribbon in order to access the ShareFile buttons.
You can also use the ShareFile default link settings or customize them as described below.
Using default settings
Create a New Message (or Reply) as you normally would.
Select your file(s) by clicking on Attach Files – From ShareFile.
Expand the Folder tree until you see the folder containing your file(s). Checkmark all files to be shared and click OK.
This will insert a new section with a download link in your message. Note that this link is not active until you send the email (i.e. you won't be able to click on it to test it out yet)
Type the rest of your message (above or below the inserted section) and Send the email normally.
If you open the message from your Sent Items folder, you should be able to view the download link and click on it.
Using custom settings
Sending attachments as described above will use normal ShareFile defaults. You can easily customize these settings before sending you message.
Create a New Message (or Reply) as you normally would.
Select your file(s) by clicking on Attach Files – From ShareFile – Use Custom Settings.
Here you can change how the attachments are accessed and for how long. Note that selecting "Require recipients to login" is only valid for BCIT recipients as they will need to login to ShareFile using their BCIT credentials before having access to the files.
Once you've done that, click OK and continue with your file selection and message writing as described in steps 3-5 above.
Attaching files from your PC
You can also attach documents from your computer. Select this option if the files you need to attach reside on your hard drive or a shared network drive.
Create a New Message (or Reply) as you normally would.
Select your file(s) by clicking on Attach Files – From PC or Use Custom Settingsto change some parameters.
Select a drive and a file from your computer and click Open.
This will insert a new section with a download link in your message as it did before.
Finish typing your message and click Send.

Note: for large files, the email may not get sent immediately. It may sit in your Outbox while it uploads. Keep checking the ShareFile upload status in the upper-right corner to know when it finished. In order for the recipients to have access to a file obtained from your local storage, the file must first be centrally accessible on BCIT's servers. You can continue working in Outlook normally since this upload process takes place in the background.
Managing email attachments
Using your browser, go to https://ShareFile.bcit.ca, click Sign In and login with your BCIT ID and password.


To view the attachments you have sent, go to Inbox – Sent
A list of all email links you have emailed out is displayed. By default, these links expire in 30 days. By selecting a link, you can email it to other recipients by clicking Resend. You can also disable it for all recipients by using Expire Link. Edit Message Options allows you to change the Notification setting or the link Expiry date. The Resend feature opens a page with two buttons:


a. Email with ShareFile – Opens the web interface for sending an email with the link to the attachment. Enter the recipients' name(s), Subject, Message (optional) and click Send.
b. Get a Link – Creates a link that you can copy/paste into an Outlook email or post somewhere else like a Loop post.
ShareFile plugin settings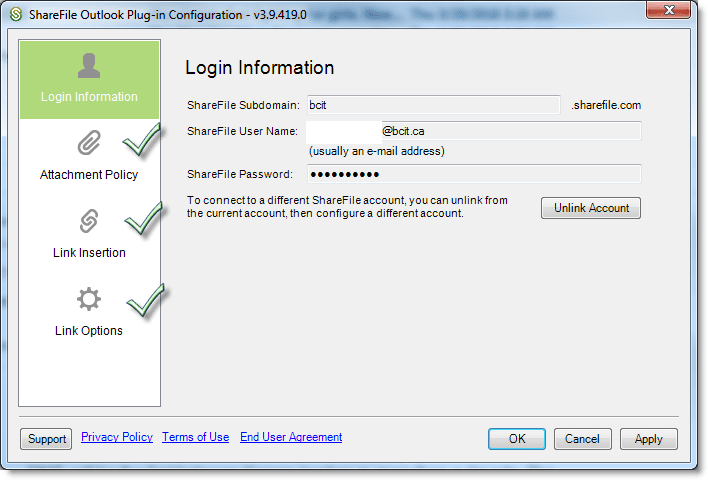 When in your Inbox, access Options by clicking on the ShareFile Options icon on your ribbon. These options will allow you to customize the behavior of the ShareFile plugin in Outlook.
Attachment policy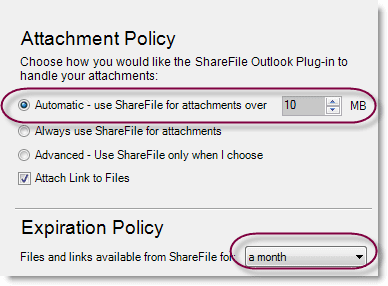 By default, ShareFile will automatically be invoked when you attach files larger than 10 Mb. Here you can change that limit if you wish or even set it to only be used when you choose. You can also change the default expiry period for links to as little as One Day to Forever (never expires).
Link insertion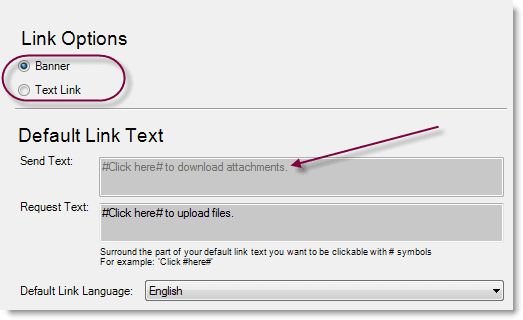 On this screen, you can decide if the links are added to messages as full Banners or as a simple Text line with a link. Banners are nicely formatted boxes with full details of the attachment and a download button while the Text option is more simplistic but you have the opportunity to fully customize what the text instructions are in the Send Text box as shown below.
Link options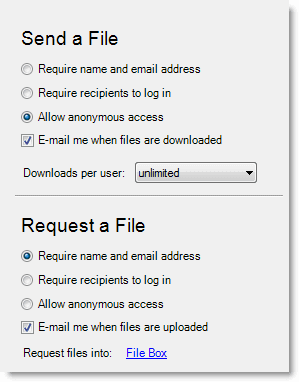 In Link Options, you can change the default access method for the links you send out. By default, anybody who has the link will be able to access the file(s) but you can change that here to force recipients to enter their Name & Email Address or even to login to ShareFile first. The latter option is best suited for BCIT staff who already have a BCIT ID and password to use to access the file.