This article applies to Internet Explorer only. If you are using another browser, please contact the Service Desk at 604-412-7444, option 1.
Symptoms
You are trying to log in to myBCIT. Your web browser is Internet Explorer. Either:
1.  You are redirected to a Technical Difficulties page,
or
2.  Nothing happens at all but there is an Error on Page message in the status bar.
Solution
This problem is resolved by adding myBCIT to your Trusted Sites. Here's how:
1.  From Internet Explorer, click on the Gear icon at the top right corner of the screen and then click on Internet Options.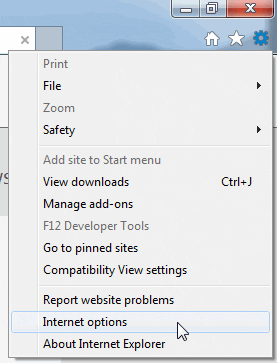 2.  In the Internet Options window, click the Security tab, the Trusted Sites icon, and the Sites button.
3.  In the Trusted Sites window, type my.bcit.ca into the field marked Add this website to the zone: and click Add.
4.  "my.bcit.ca" is now displayed in the Websites: section (if you have others already added, you may need to scroll down to see it).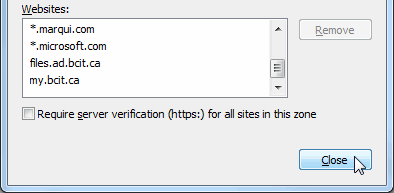 5.  Click OK on the Trusted Sites window.
6.  Click OK on the Internet Options window.
7.  Exit and restart Internet Explorer.  The new setting should be activated now.
8.  Log into your myBCIT account (https://my.bcit.ca) and try to access your e-mail.