It looks like you're trying to get to myBCIT with an incorrect URL.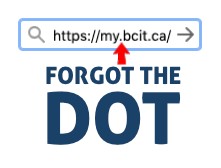 You got here with:
https://mybcit.ca
The correct URL is:
https://my.bcit.ca
Please correct your links:
If you typed in the URL directly, please note the correct URL: https://my.bcit.ca
If you came here from a bookmark, please update it.
If you clicked on a link from another site, let us know where you found it so we can have it changed.
Make sure you update your links and you won't have to see this page anymore.