Your own files and those shared with you are accessible through a smartphone or tablet. ShareFile supports the most popular platforms: iOS, Android, and Blackberry.
Installing the ShareFile app
The free Citrix ShareFile app must be downloaded through your respective device's app store. Before proceeding, download this app onto your smartphone or tablet.
Configuring the ShareFile app
1.  Open the ShareFile app on your smartphone or tablet.
2.  Do not attempt to sign in using the default screen.  Instead, click on Log in with my company credentials.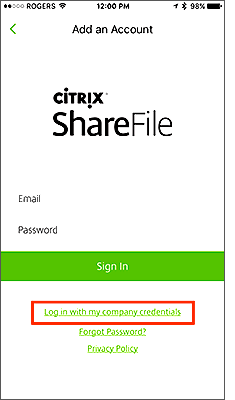 3.  The next screen will prompt you for your subdomain. Enter 'bcit' and then click Continue.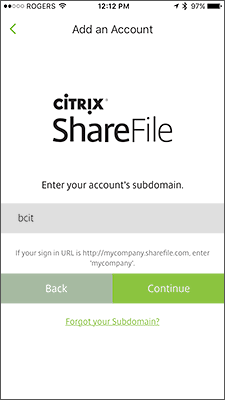 4.  In the final screen, enter your usual BCIT credentials to complete the setup. If you've forgotten your password, you can reset it.