WebEx is part of the BCIT VOIP applications that provides web conferencing, video conferencing, and online meetings services. A WebEx session is ideal to hold online meetings, presentations, training, sales pitches, and demonstrations with internal and external meeting participants. BCIT WebEx servers are on site (not to be confused with Cisco's hosted WebEx service).
At BCIT, you can easily join a WebEx session right from your Outlook Calendar, the Jabber client on your computer, your mobile devices, or any web browser.
WebEx installation and access
You will need to configure the following components to enable full functionality and integration of WebEx on your computer. Please note that these components can also be installed on personal Mac computers.
WebEx access
This section describes how to install the Webex applications on your Mac computer and integrate it with Jabber.
Logging in the first time
Click the Sign In button found in the IT Services notification. This should open the WebEx User Login page in your web browser. Alternatively, go to the BCIT Webex web site.
Your Username is your default Email Address and your BCIT ID password.
If you are unsure of what your Default Email Address is, click File in Outlook and review your Account Information.

Congratulations, you have successfully accessed the BCIT WebEx web site.
3. Next you should review your Account Profile. Although not required, the information will be useful for proper scheduling and for other participants to have better contact information on hand.

a. Click on your Name at the top of the page.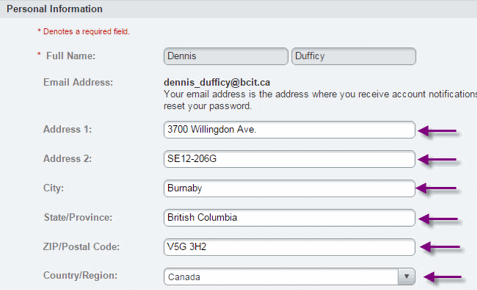 b. Enter your main BCIT address under Personal Information.

c. More importantly, enter any phone numbers you may need to be reached at under My Phone Numbers. This will allow Webex to use these devices for audio connections should you need them.

d. Finally, it is important to select the proper Time Zone and Locale information under the Web Page Preferences.

e. If you have delegated your Calendar to an assistant who manages your meetings, you will need to grant that person Webex access to your Calendar as well. Type your delegate's name in the Scheduling Permission section.
f. Click Update to save your changes.
4. To return to the site, you should bookmark the BCIT WebEx website.
Setup desktop tools
WebEx can be integrated with your desktop (laptop) and Jabber but this requires additional configuration as explained below.
WebEx meetings
This program is the main WebEx client application and it is required to join any session. You don't need to perform a separate installation of the software since it should prompt you to download and install it the first time you join a WebEx.
Upon joining or starting a Webex session, you should get prompted to download the Meetings application. Click Download to proceed and save the file on your computer.

Once downloaded, install the package as follows.
Open your Downloads folder in Finder.
Double-click the file called "webexmc_onprem.dmg" to open it.
Launch "Cisco WebEx Meetings.pkg" by double-clicking it.
Click Continue at the Introduction screen.
Read the Important Information screen and click Continue.
Click Install to start the installation of the package.
Enter your Mac OS Username and Password when prompted.
When complete, you should see this Summary screen. Click Close.
Jabber integration
The last setup to perform is to access WebEx from Jabber. This will not require any additional software installation but you will need to configure access to the WebEx services. Integrating WebEx with Jabber is optional but it allows you to quickly Schedule new WebEx sessions, and Join previously scheduled ones with a single click.
Launch Jabber if it isn't running.
Select Jabber –> Preferences.
Select the Meetings tab, click the Meeting Site drop-down and select Edit Meetings Site.
Select "WebExuser.voip.bcit.ca", type in your default email address and BCIT password. Cick Apply.
Close Preferences.
Back in Jabber, click on the Calendar icon. You should now be able to click on Meet Now to host an adhoc Webex meeting or Start (or Join) to begin a Scheduled session.
For additional information on installing these WebEx components or on how to use WebEx at BCIT, please contact the Technology Service Desk (604-412-7444 – option 1).