The Webex Quick Start Guide introduced you to scheduling online meetings and the basics of starting Webex sessions. This guide will discuss more advanced features that can enhance your Webex experience at BCIT. It is intended for mainly the Windows client but many features will be the same in Mac OS. The mobile experience, of course, is very different and none of this documentation will apply. This guide also pertains to using Webex on premise and may not apply to using Cisco endpoints that have been deployed in certain meeting rooms on campus.
Contents
Sharing
Audio
Collaborating
Video
Chat
Notes
Closed Captioning
Polling
Mobile
Sharing
Webex allows you to share almost anything running on your computer. You can choose to share:
Files – select any file on your computer including audio or video files.
Applications – pick a program installed on your computer.
Monitors – allows you to select a monitor, even when you have multiple.
Whiteboard – start a board to write or draw on.
Meeting Window – the Webex meeting application itself.
Once you selected what to share, only that element will be visible to participants. If you switch to a different window, the shared element gets temporarily blanked out on the participant's screen. That way you are ensured only the relevant material gets shared in your meeting.
It is worth noting that only files shared will support audio broadcast. That means that if you share an application with sound, the audio will not carry through to participants. However, sharing a sound file or video file (MP#, MPEG, etc.) will allow audio to be heard.
Sharing applications
Once you have started a Webex session, it is easy to share anything. From your Quick Start tab, click on More Options under the round Share button (or select the Share menu). This brings up a list to choose what to share. If you need to choose an application not yet running, simply select Other Applications to pick another program to open.
Note that choosing an application or a monitor shares everything displayed within those windows.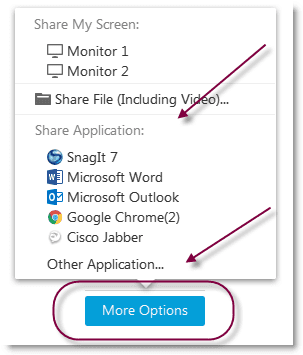 OR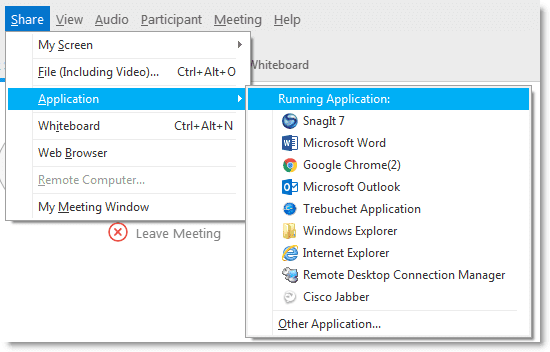 Once you are in Sharing mode, the Webex meeting client will disappear to the background and your shared window will move to the foreground. The Webex menu is still available. Hover your mouse at the very top of the shared screen and the menu will drop down giving you access to all the Webex features. You might find it useful to toggle the display of the Chat window and Participants. These allow you to keep interacting with participants while you are sharing.
When you are all done, simply click the red Stop Sharing button to return to the Webex client.
Host and presenter
The Host is usually the person who has scheduled the Webex event. By default, the Host is also the Presenter, i.e. the person who can share part of their computer. It is sometimes useful to have others share content with the group. The key to remember is that Webex allows only one participant to be the Host and one participant to be the Presenter at any given time.. As the Host, you can allow another participant to present while still maintaining the host role. Stop sharing any content if you started sharing first and then right-click the person (Name or Video thumbnail) and select Change Role to – Presenter. The selected presenter can then share anything from their computer. At any point, you can take the Presenter role back by right-clicking your own name and selecting Change Role to – Presenter.
Collaborating
Webex is a great tool that supports collaboration in many ways.
Remote control
The first approach to collaborating is to gain "control" of what is being shared. The way control is implemented is again "one at a time" concept. Whomever has control has the ability to remotely take over the mouse and keyboard actions relevant to the shared element.

The way it works is quite simple. Once an object has been shared by the presenter, any participant can gain control of it. The Presenter can assign control by using Assign – Pass keyboard and mouse control to any participant. Alternatively, a participant can right-click the shared window and select Ask to Control. Both the Presenter and participant are asked to confirm the changeover. Once granted, both computers can share control although only one at a time. By hovering the mouse in the document you will get prompted to click to gain control again (see picture below) and each person can alternatively contribute in this fashion. The Presenter can revoke the control privilege by unselecting the participant's name using the same Assign menu item or by stopping the sharing altogether.
Documents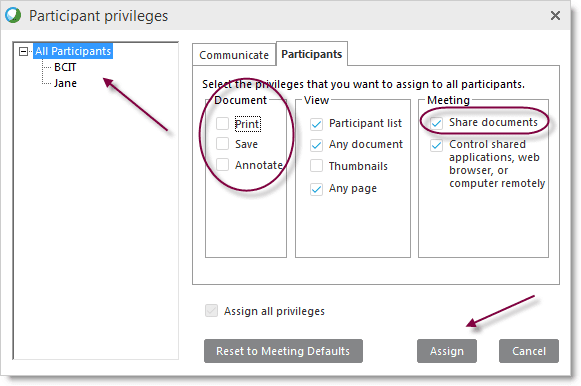 Unlike Presenter mode, Document Sharing allows all participants to share multiple files at once and is a very powerful way to collaborate in Webex. The Host can share documents by default but all participants could be enabled to do it as well. As the Host, select Participants – Assign Privileges and click on the Participants tab. From there, checkmark Share Documents under Meetings. Optionally, you can also choose to enable participants to Print/Save/Annotate these shared documents under the Document tab. Click Assign when done. Note that these Document privileges also apply to Whiteboards which we'll discuss later.

Now any participant can select Share-> File, and open any file on their computer to be shared. Any opened file will be added to the participant's Webex window as a new tab. Participants can flip between each, annotate each individually, and even Save (as PDF) or print them (if enabled).
You may have noticed that you can assign privileges to All Participants or just selected individuals from the left-hand side in the Privileges window (shown above). Of course, you must have the corresponding application installed on your computer before opening the selected file. Also note that when a document is closed (click small 'x' in upper-right corner of the tab) by any participant, it will remove the tab for all participants.
Annotation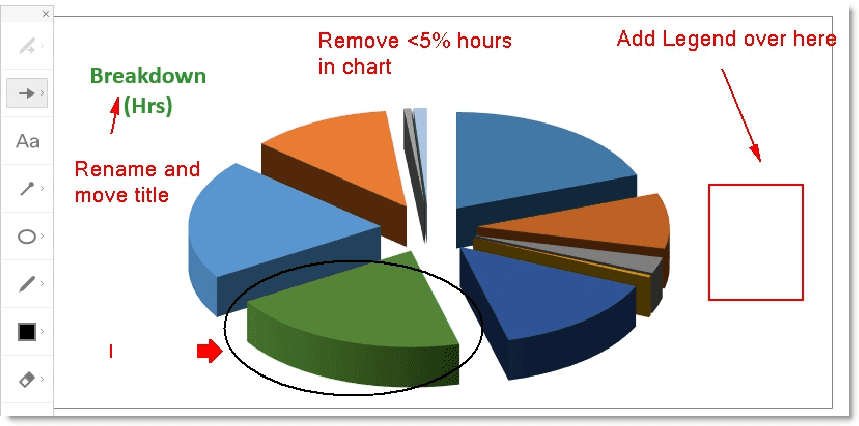 Annotating documents entail the ability to add notes and drawings to a page to assist in a discussion. Webex supports annotation for any object being shared. The one caveat to remember is that annotations are overlaid on top of the current screen so the page displayed is temporarily frozen (cannot be scrolled) while Annotation is enabled.
To start annotating, simply share the element being discussed and select Annotate from the drop-down Webex menu. Toggle the same Annotate button to turn it off. Participants can request to annotate by right-clicking the page and selecting Ask to Annotate. The Host can also simply allow all participants to annotate by clicking Assign – Allow to Annotate – All.
Each participant can use Edit – Clear – My Annotations to erase all of their drawings and start over. The annotations can be saved as a JPG image file by selecting Save (disk icon) on the Annotate toolbar. An important note about saving Annotations is that the JPG file is a full screen capture. The implication is that if you have multiple monitors, ALL screens will be captured in the JPG image, even if other screens were not shared! Be aware of any privacy issues in these cases. It is strongly recommend to review the capture file before distributing to others to prevent accidental exposure of information.
Whiteboard
The Whiteboard area in Webex is essentially a blank canvas that participants can annotate at will. It could be practical for brainstorming or illustrating discussions with visuals (see illustration below). To add a Whiteboard, simply click the '+' sign on the New Whiteboard tab. Note that you can have multiple pages on the whiteboard by selecting Edit – Add Page and you can easily scroll from page to page using the left and right arrows in the toolbar. The Host should assign Document Annotation privileges as illustrated in the Documents section above to allow all participants to annotate (if desired).
The Whiteboard area can be saved (as a PDF) or printed and can be closed by selecting Edit – Close or clicking the 'x' on the tab.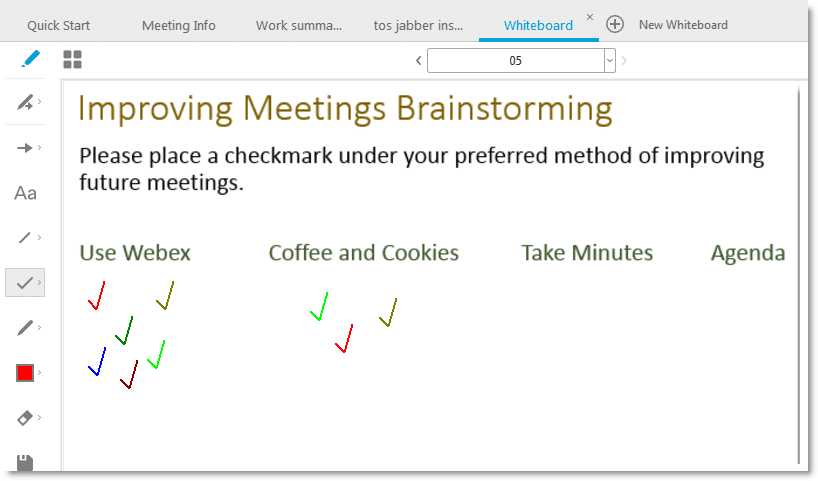 It is useful to know that any screen capture can be directly Copy/Pasted on a whiteboard page for quick brainstorming. This can be done using the Windows Print Screen feature or any screen capture software.
Audio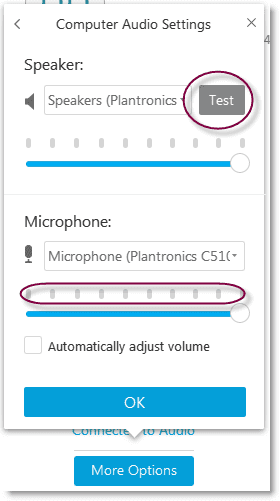 Sound is often the main challenge during a Webex session, especially when using your computer sound equipment. It is good to know that each participant can test their own sound equipment to help determine the source of problems. Select Audio – Computer Audio Settings. This brings up the Audio Settings box. From there, you can select the correct speaker and microphone from the drop-down lists (as you may have more than one installed) as well as test the speakers (Test button) and visually verify if your microphone is picking up sound. If your equipment checks out but others still experience sound issues, the problem should be on their side at that point.
Under the Audio – Audio Connection menu, you have more useful controls. Here you can mute the incoming audio (if you need to "step out" for a bit for instance), mute your microphone, or use the Switch Audio button to change the sound source using the Audio Connection menu. Should you experience problems with your computer sound for example, you can use a phone to dial in or have Webex call you at your location. You can switch sound source at any time during a Webex session.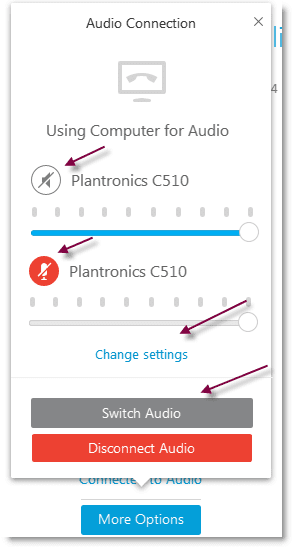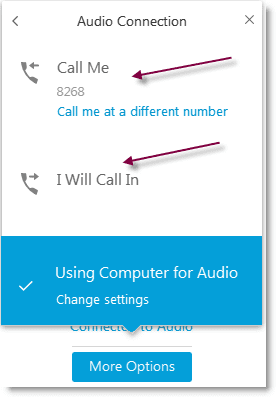 Video
First, here are a few facts about using Video during a Webex session.
Thumbnails will not show if you are in a Webex with just two people
The person who is speaking will automatically switch to the main video frame, unless that person has been muted
When a large number of participants use video, it can slow down your connection. Change to List view to help
Hovering your mouse in the main video window allows you to switch between List and Thumbnail view as well as go to a Full Screen view of the video feed

You can change video settings by selecting the gear icon in the Participants bar.

From there you can select a different camera (if you have more than one installed) and click Advanced Settings to access camera parameters. These settings allow you to adjust color, lighting, exposure and so on to compensate for poor lighting in your location. Image Quality is a setting you can change quickly to optimize the video feeds for either "speed" or "quality".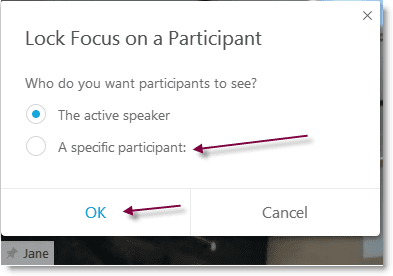 Hovering your mouse in the main Video window and clicking in the bottom-left name will bring up the Lock option. This allows you to "lock" the video on the active speaker (default) or a specific participant. This can be useful to avoid the camera skipping from participant to participant when not needed.
Chat
The Chat (Instant Messaging) feature in Webex is enabled by default. Note that it is a basic chat function and will not support graphics, emoticons, or any formatting. However, you can send URL links which can be useful to direct participants to certain relevant websites during the meeting.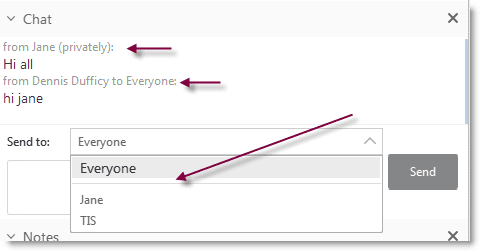 By default, any participant can start a chat with any participant. From the Chat drop-down section, click on Everyone to select who to send your chat to. The chat history will display who the previous chats were sent to so that you can reply appropriately.
As a host, you have full control of the scope of chats during your session. You can completely disable the ability for anyone to chat from Meeting – Options. De-select Chat and click Ok. The Chat section will be removed from all participants' sessions. You also have more granular control over who participants can chat with. Select Participant-Assign Privileges. The Communicate tab allows you to decide what group each attendee will be able to chat with. In a class environment for instance it would make sense to disable "Other participants" as well as "Publicly".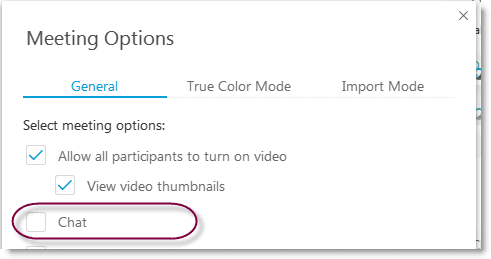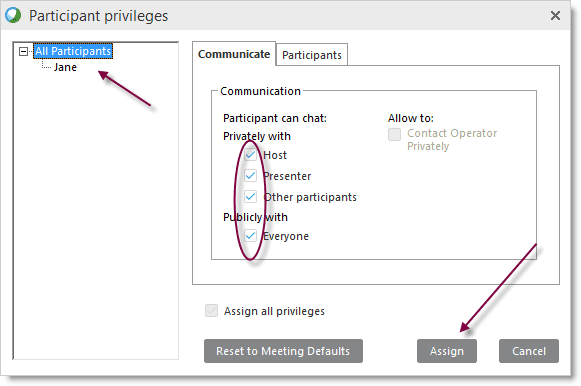 Notes
Notes is a lesser known feature of Webex which can be useful at times. Consider it a Notepad-type area where participants can jot down meeting notes for themselves and save them to a text file before leaving the meeting. Enable it by clicking on the Notes icon in the Webex toolbar as shown below. If it doesn't show, click on the down arrow and select Manage Panels. From there, select Notes and click Add and Ok. Once enabled, the Notes area should appear below the Chat area.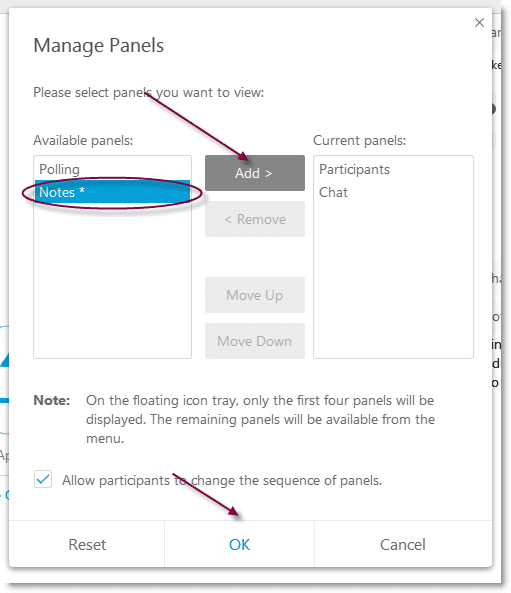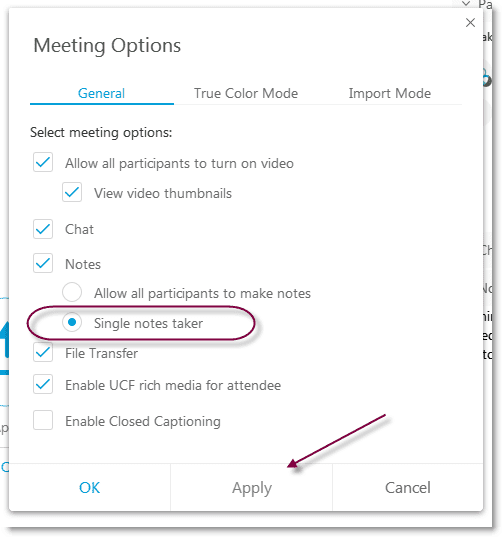 By default, each participant creates their own private notes. However, the Host can designate a Note Taker and allow sharing of the notes. This is useful to take minutes, record action items, or reminders for the whole group. As the Host, select Meeting – Options. Select "Single Note Taker" and apply the change. Now right-click on a participant's name and select Change Role to – Note Taker. At this point, only that individual will be able to use the Notes feature. At any point during the meeting, the Note Taker can share the notes by clicking Publish. Any participant can, however, save a text file of the notes on their computer, using the Save button.
Closed captioning
Closed Captioning is a feature that works exactly in the same fashion as the Note Taker feature described above. The Host can enable it from the same Meeting Options window shown above. The only advantage of assigning a Closed Captionist instead of a Note Taker is that it will permit all participants to take their own private notes as well.
Polling
Polling is another feature in Webex that can enhance a discussion and is actually not hard to setup. It can certainly be useful in a class environment or as part of a decision-making process.

Enable it by clicking on the Polling icon in the Webex toolbar as shown below. If it doesn't show, click on the down arrow and select Manage Panels. From there, select Polling and click Add and Ok. Once enabled, the Polling area should appear as anew section.
To create your Poll, first select the type of question to add, Multiple Choice or Short Answer and click New. Type your question in the field that opens and press Enter when done. Type each choice followed by Enter for multiple choice questions or a default text for Short answer questions. Click New again to enter the following question. Questions can be removed using the Trash icon in the toolbar or moved up and down using the arrows. When ready, click on Open Poll and all participants will receive the Poll instantly. All answers will be registered in the Status area in real-time!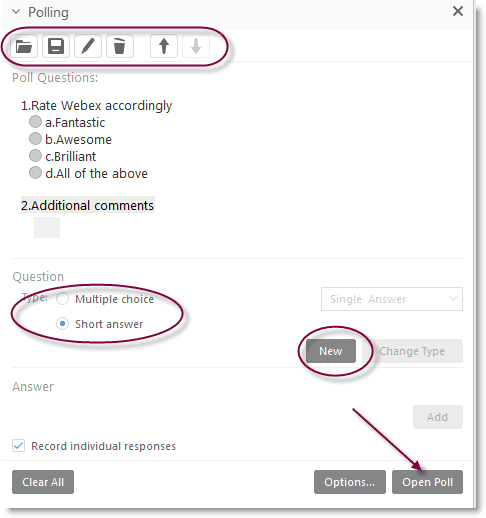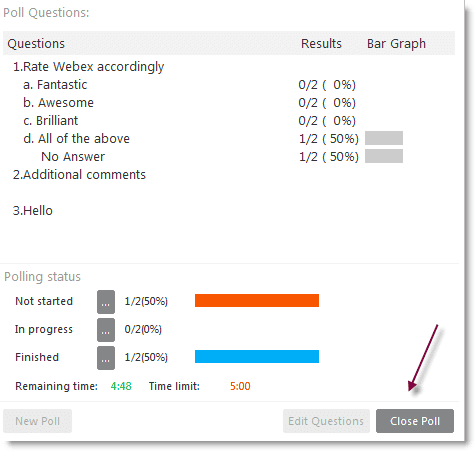 After the default time limit (5 minutes – which can be changed using Options…) or after you select Close Poll, all results are tabulated in a table as shown below. Results can be saved or published to participants by selecting Apply.
Although easy to setup, it is much faster to create Polls ahead of a meeting and save them on your computer. This way, several polls could be loaded during a meeting and distributed to participants within seconds. To do that, simply create all your questions as discussed above and click the Save (disk icon) in the Polling toolbar. Save the ADP file on your computer. During the meeting, click the Open (folder icon) in the Polling toolbar to load the appropriate ADP file created ahead of time and send it out on the spot! Note that only one Poll can be opened at a time.
Mobile
Clients can join online meetings using the Webex App on either Android or iOS devices. The app can be downloaded from the respective mobile app Store.. These devices support audio, video, and sharing content quite well. They do however have several limitations to be aware of.
When using Webex on mobile, the following features are NOT supported:
Annotation
Keyboard & Mouse control
Participate in Polls
Take Notes
Raise Hand
File Transfer uploads/downloads
Mobile participants can have the Presenter role, however:

The user can share files but not an App
Won't be able to pass Control and Annotation rights
No Whiteboard support
For additional information on these features, please contact the Technology Service Desk (604-412-7444 – option 1).