When do I need to submit?
As soon as possible. The sooner that you can submit your request, the better experience we will be able to provide when it is time to begin teaching your course. Please create a separate request for each distinct course you have as new methods of software delivery may require granting/restricting access and licensing directly to course groups.
How do I submit a request?
Go to the ITS Techhelp Storefront
Log in using your BCIT ID and password (A0.. and password)
Click on the Request to install software for Course Delivery tile.
Filling out the request form:
Each software request requires at least one software title or configuration, and one subject+course group. The more information you provide the better IT Services will be able to support your software delivery. Please be thorough.
The form has several sections:
Course and Software Information
Each course requires students to have access to particular software for successful course delivery. Think of this in the following way: "Students in FMGT2500 need Excel, Quickbooks and Sage 50"
Please tell us about all of the software you need to be available for the students in your course.
Here are three examples on how to complete this section of the form: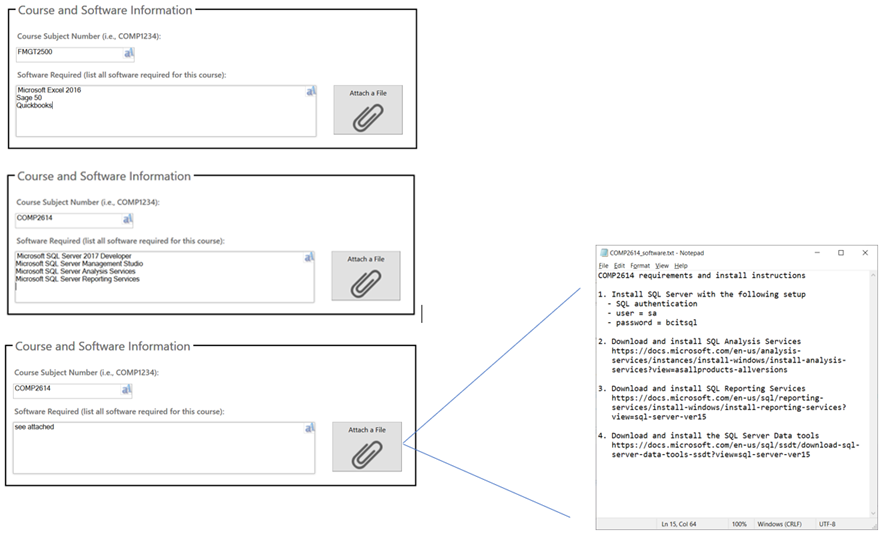 Note: Any information that you can provide will help ensure that the correct software is installed and configured for your course.
Licensing
The licensing section is one of the most critical sections of the form. Please provide as much licensing information as possible to ensure that BCIT remains compliant.
Here are some examples on how you can fill out the licensing section: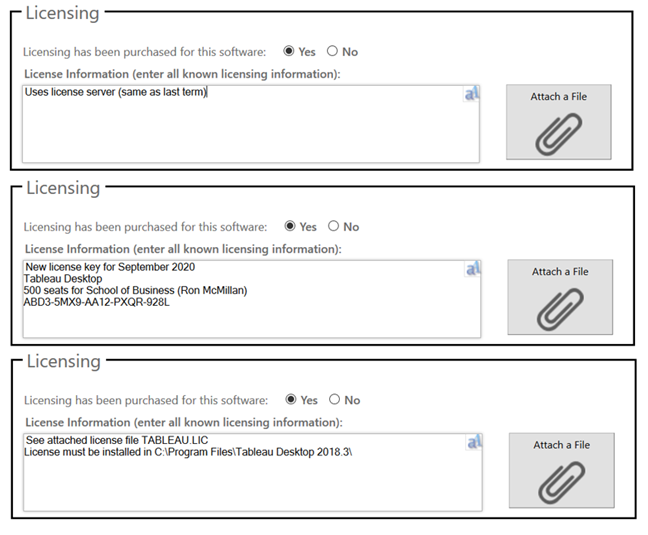 If you have questions or are unsure about license requirements, make a note for us in the license information field and we will follow up with you.
Installation Instructions
Please attach any installation instructions that you have available.
Note: You may already have instructions for students to download, install and configure software on their own personal devices. You can attach the same instructions here too.
If your software has a complex setup, please note it on the form and an IT Service Analyst will contact you to book an appointment to capture your requirements.
Contact Information
Please fill in the details in this section to let us know the best time to reach you if an analyst needs to contact you regarding your request.
Submitting the Request
When the form is complete, Click the Submit button (located at the top or at the bottom of the form).
You will receive an email from techhelp@bcit.ca letting you know that your request has been received.
If you want to add more information click the Add information to this request link. The IT Analyst working on the request will be notified.
If you want to revisit your request, you can select My Items on the techhelp storefront.
Tips for using the form:
There is a two-hour timeout on the form. If the timeout is reached you will lose any work not submitted and will need to start again. To prevent this, you may work locally in a text editor and submit attachments.
If you have multiple CRNs of the same course, add a note that this request is the same for all your CRNs.
If you have any questions, please contact the IT Service Desk.
Get more help from the Technology Service Desk:
More information about software requests