At BCIT, you can easily join a WebEx session right from your Outlook Calendar, the Jabber client on your computer, your mobile device, or any phone. To get started with Webex, you should make sure you have all the required software and Plug-Ins installed by reading the Installation Guide for your OS referenced in this Knowledge Base article.
Webex Meetings offers a variety of easy-to-use Voice and Video conferencing features available to BCIT staff as well as external participants.
Scheduling a Webex meeting
Using Outlook, start a New Meeting as you normally would.
Fill in all the meeting details.
Click on Add Webex and Ok when prompted.
Click Send. Done!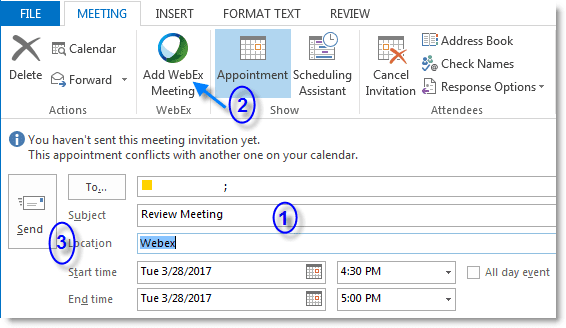 Joining a Webex meeting
There are two ways to join a Webex conference from the meeting invitation you received.
Click on the URL (or the Join link) provided in the Email invitation to initiate the meeting process**
** Note that this action will launch your Web Browser and prompt you to install an Extension or Plug-In. Proceed ahead with this one-time installation. Some browsers may offer you the choice to Run a temporary application instead of installing the Plug-In, this is a perfectly acceptable alternative to installing the software on your computer, feel free to click it.
2. Alternatively, if you only wish to join using a phone device (teleconference), dial one of the numbers provided and enter the Access Code when prompted.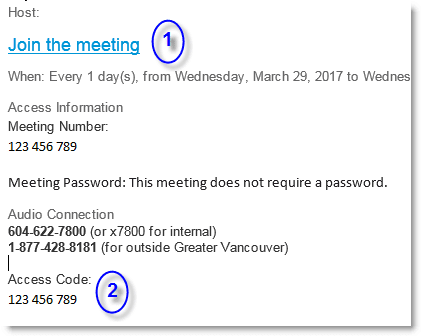 First time login
Before entering the conference, your browser will prompt you to Join but first enter your Name and BCIT email address.
Next, the first time you login to Webex, enter your BCIT email address and your BCIT password, check Remember me and click Sign In.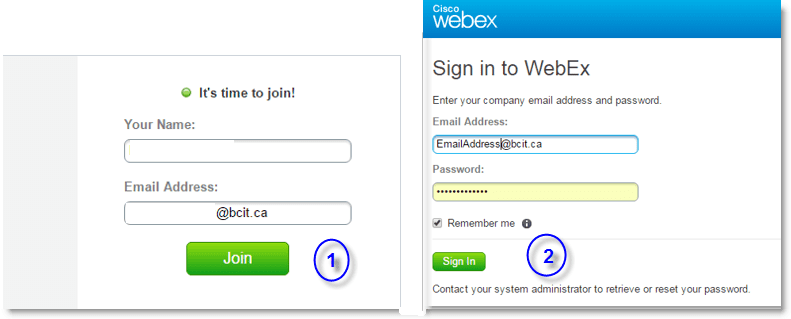 Participating in a Webex
Once the Webex starts, here is what you need to know.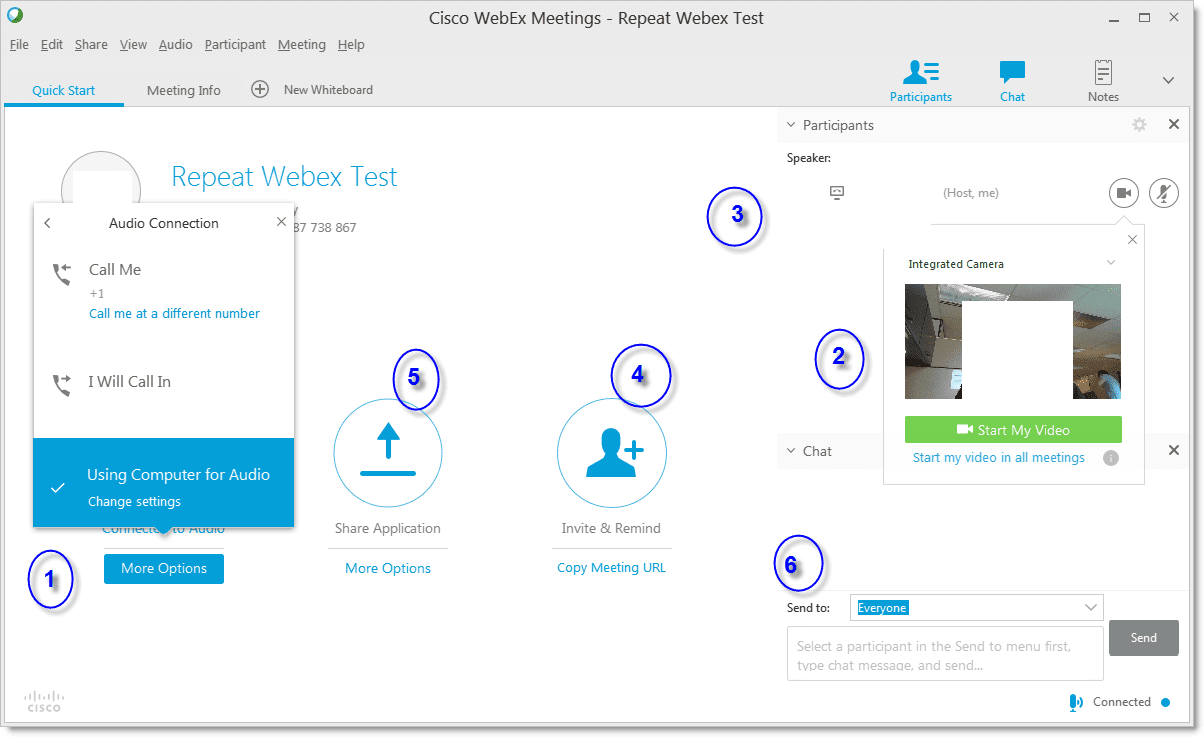 Select your Audio source for the conference.
Call Me. Have the Webex call you on the phone number of your choice. Conveniently, this could be a Polycom Conference unit if you have others attending in a meeting room with you.
I Will Call In. Dial the number provided with the access code from any phone device.
Use Computer for Audio. This enables you to use your computer's microphone and speakers (or preferably a headset) for audio.
2. Optionally enable your camera to join in a Video Conference.
3. See who else has joined the conference. As the Host, you can right-click the names of the people to further interact with them or manage the conference attendees.
4. Use this icon to send an email invitation to new participants or remind guests (via an email notice) who haven't joined yet.
5. Click the Share Application-More Options to select an application or a screen (monitor) to share with all participants.
6. Send an Instant Message (Chat) to everyone or selected individuals in the conference.
When the meeting is over, don't forget to select Quick Start- Leave Meeting.
For more information on this topic, please contact the Technology Service Desk (604-412-7444–option 1).
Thank you!