Exchange supports Text Notification delivery to route text messages to your mobile device. These notifications can be customized to send alerts based on distinct events such as certain emails or meeting requests. At this time, only Bell and Telus mobility services are supported in Canada.
Text notifications can be useful to monitor events in mailboxes that you don't login to often like Shared mailboxes or other accounts you may have access to. It also can be useful to alert you of specific important or urgent emails you may receive from time to time.
Enable text notifications
Using a browser, go to the Outlook Web Access (OWA) page and login with your usual BCIT credentials.
Select Menu – Options.
Under Phone, Select Text Messaging and click on Turn On Notifications.
Choose Canada as Locale and select your carrier (Bell or Telus). Click Next.
Note: Other cell providers are currently not available at this time.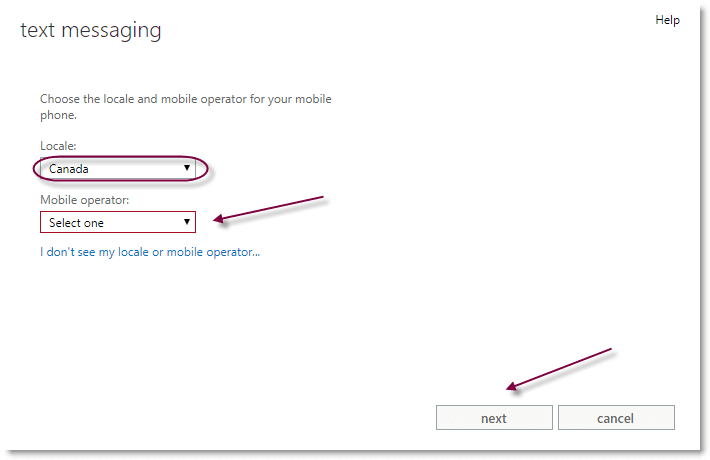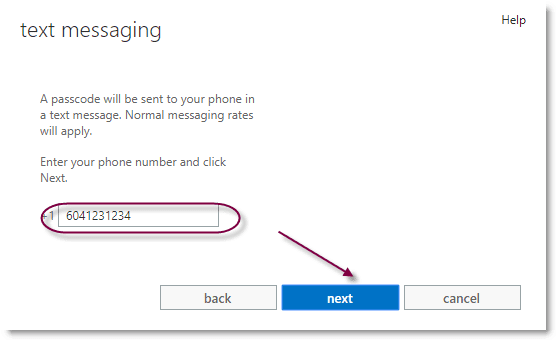 5. Enter your mobile phone number and click Next.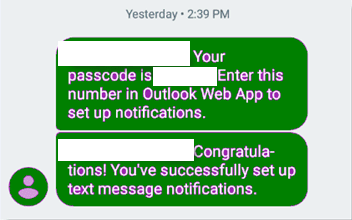 You will receive a validation code on your mobile device via SMS that you will need to enter in the Passcode field on the screen that popped up. Do not close the Passcode window until you have entered this code or you will need to start over. Note that it may take several minutes before you receive the code.
Configuring text notifications
Now that you have paired your mobile device with your Exchange account, you can add rules to determine when you will get notifications. You can customize the following: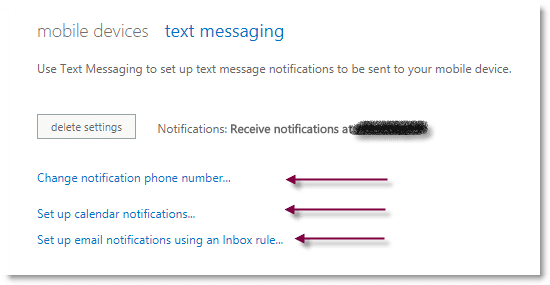 Change notification phone number
This will allow you to change the phone number the account is associated with. It is the same process identified above. Note that you can only have one number tied to your Exchange account at one time.
Set up calendar notifications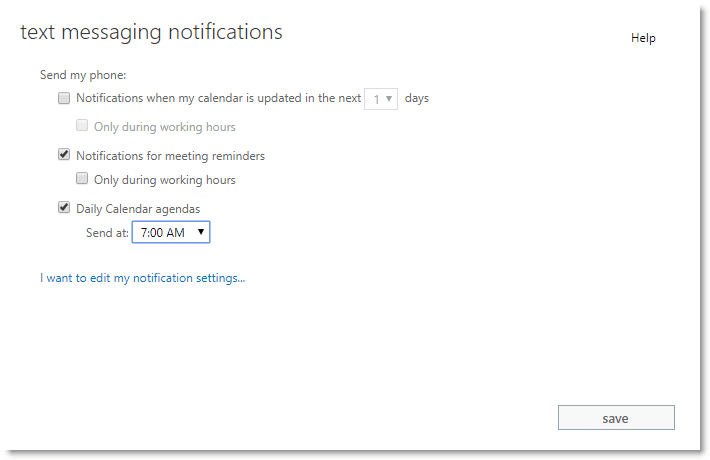 You can enable three types of event notification in your Calendar. You can request notifications upon any changes made, or setup meeting reminders, or even have a full daily agenda of appointments sent to you.
Set up email notifications using an Inbox rule.
This section is a wizard that steps you through building an email rule that will send you alerts based on certain conditions.
Name the Rule appropriately.
Select a condition that will trigger the notification.
Select "Send a Text message" as an action and click on Select one to add your pre-configured phone number.
 Note that you can click More options to add additional actions to be taken with the message.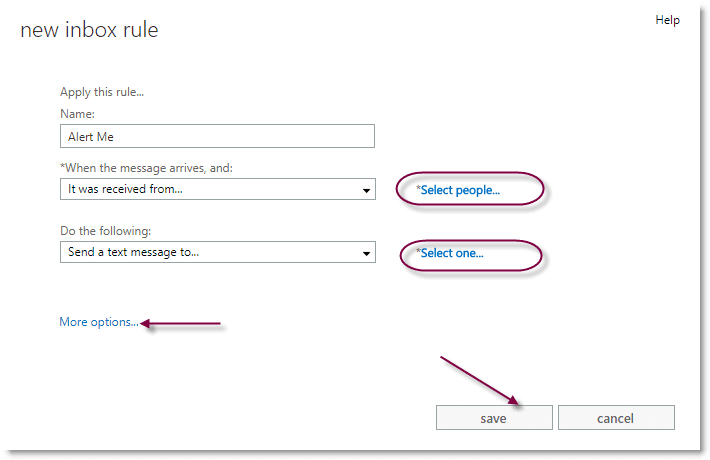 4. Click Save when done.
5. If you need to view the new rule, you will find it under Options – Organize email – Inbox rules.

6. Click the pen to edit it or the trash bin to completely remove it.
If you want to undo the association with your mobile device, simply return to Options – Phone – Text Messaging and select "delete settings". You do not need to verify the action with code.

If you need additional information, please contact the Technology Service Desk (604-412-7444 – option 1).