BCIT is site licensed for Adobe Acrobat Pro DC through our current Educational Term License Agreement. This had previously been interpreted as 'any device owned by BCIT'.
Conversations with our software vendor revealed that we are licensed for all our staff for Acrobat Pro, and on Feb 17, 2021 this access was enabled for all faculty and staff. Notifications for product changes were sent by Adobe and all staff would have received an email that they had been granted access.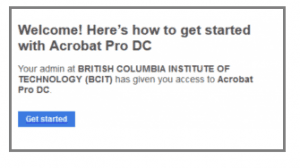 What this means
This access is provided for the current agreement, which expires March 31 2023.
No changes for staff Adobe Creative Cloud
BCIT faculty and staff are not site licensed for Adobe Creative Cloud. No changes for that product.
Faculty and staff requiring access to Creative Cloud should refer to the Faculty & Staff Adobe Creative Cloud Resources article to provide information and approval for subscription assignment.
No changes for student Acrobat Pro DC access
This license change affects staff only.
Acrobat Pro DC is not licensed for student personal devices, and Adobe's software licensing does not allow remote access, virtualization or software streaming. Students will not have access to Acrobat Pro DC until students return to campus.
More resources about using Adobe at BCIT